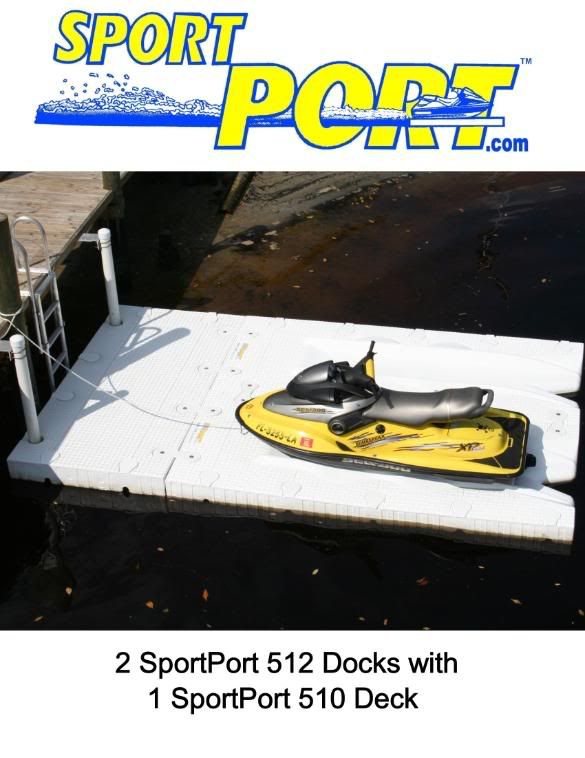 We Carry a full line of SportPort Drive-On PWC Lifts available for any application. Give use call to find out how SportPort can work for you. Installation Available for Louisiana and Mississippi residents.
Additional product discounts are available when purchasing two or more ports.
Drive-On PWC Lifts
Sportport provides a safe and stable platform for easy parking, refueling and engine flushing, even a wash and wax. After playing hard all day, just drive up on the SportPort (not too fast!) and your docked. The non-skid deck provides stable footing while the multi-chine design* offers minimum resistance when docking and launching. It makes a good fit for all types of personal watercraft and boats. SportPort floats with the tide and/or water level changes, so your personal watercraft or boat is always ready when you are.
New 512 Dock & 510/255 Deck Information
The NEW 500 Series SportPort is designed for the new, bigger Personal Watercraft (4 stroke PWC's). The 512 SportPort Dock is a 5' X 12' dock section that can be interlocked with like units to accommodate any number of skis.
The 510 SportPort Deck is a 5' X 10' Deck that interlocks with the 512 SportPort Dock to create additional walk around space. The 255 SportPort Deck is a 2 1/2' X 5' Deck section that interlocks with the 512 SportPort Dock & the 510 Deck to create more walk around space. The picture listed above gives a good illustration of how it all fits together.
Ultra EQ Information
The Ultra EQ SportPort is designed for Jet Boats and Runabouts. SportPort Ultra EQ Sections (Ramp/Mid/Bow) 10'x5'5" Sections, Expandable up to 30'.
Built To Last
SportPort requires zero maintenance and has no moving parts to wear out or break. The tough "polyshell" is made of high-tech non-corrosive materials that will not rust in fresh or saltwater environments. Foam core technology provides plenty of flotation and renders SportPort unsinkable.